PLAYWRIGHT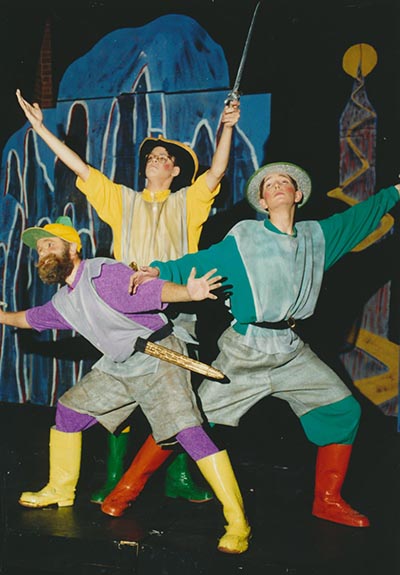 I was a precocious kid who happily sequestered himself inside his room to write. My family moved to Calgary as I turned twelve, and the combination of puberty and switching schools took a toll on my confidence. At fourteen, on a lark, I auditioned for Storybook Theatre (a local community children's theatre company), and was cast in a show about a rapping dinosaur. The solace I found in this ad hoc community helped me overcome a certain degree of social anxiety. As my love of writing fused with the joy of collaboration, I dedicated my professional artistic career to theatre.
I can't say with a straight face that I consider myself a "successful" playwright. I'm really not sure what that would entail or feel like, though I'm sure royalty cheques would be clarifying. I've enjoyed multiple productions of my work over the years, both professional and what would totally non-condescendingly be called "amateur." In 1999, some talented buds and I started a fledgling company called Laughing Day, and spent two summers touring Fringe festivals across Canada. The second of these tours, for my first full-fledged one-act, Menace, started out as a train wreck, then went on to win Best English-Language Production at the Montreal Fringe (2001). (A very long, and now very funny story, that I'll share as a blog post some day soon.) I went on to create the modest hit Wedgie with my buds over at Upintheair. Wedgie remains a creation near and dear to my heart, and to this day continues to be remounted (principally at the behest of former cast members who went on to become drama teachers). At Upintheair, I co-founded the Walking Fish Festival, and the company would premiere my multiple Jessie award-winning Inside the Seed, as well as the sold-out premiere run of The City & the City (an adaptation of China Miéville's magnificent cult novel) at PuSh in 2017.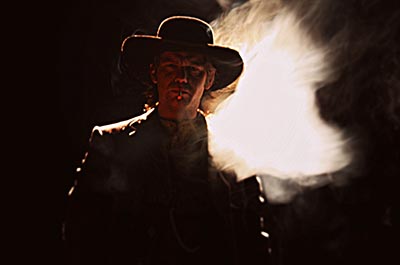 My experience at Fringe festivals, and running Walking Fish, gave me the chutzpah to co-found and Festival Direct the current iteration of the Calgary International Fringe Festival, which led to my briefly helming Ghost River Theatre — another company that I have the great honour of continuing to work with on various projects and in various capacities, under the leadership of their indomitable Artistic Director Eric Rose. I departed GRT for a three-year gig at the now-infamous Soulpepper. (Not only was "sexual" not the only kind of harassment taking place there, but the company, as far as I know, has to this day neither atoned for nor rectified its toxicity, all their glowing media redemption stories to the contrary.) To be candid, I was lured to Soulpepper under what would turn out to be very false pretenses sustained by a series of outright lies. But hey — a gig's a gig, I guess. es of outright lies. But hey — a gig's a gig, I guess.
I'm proud of the three plays I wrote there, while slogging it out as a reticent "actor." The aforementioned Inside the Seed was the first, followed by The Ring Around, and Cat vs. Duck (or: A Literary Evening). You will find these and other playscripts below. Some of the scripts on this page have been produced, most have not. As a devout recluse, I tend not to conduct the requisite hobnobbing that might help to usher my work to the stage, but I remain optimistic that they'll find their way there somehow. I hope you enjoy the excerpts, and feel free to get in touch if you'd like to read the entire text.